The Eyre Peninsula is a great South Australian holiday destination.
Join us on an excellent tour to Port Lincoln and Ceduna showcasing natural wonders, local produce, history and the fabulous hospitality of the Eyre Peninsula.
More than 65 percent of Australia's seafood comes from here and it cannot get any fresher than what you find here.
Whether it is the Southern Right Whales frolicking in the Great Australian Bight, rugged limestone cliffs, kilometres of unspoilt coastline, fresh seafood, indigenous culture or the giant Pildappa Rock that interest you, our Eyre Peninsula Tours has it all.
Taste pure oysters at Coffin Bay and walk among the Murphy Haystacks which are so nicely arranged by mother nature.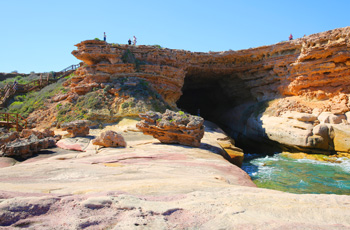 It is whale season at the Head of Bight and you can watch the gentle creatures playing and feeding in the bay. We take an Eco Whale Watching Cruise at Fowlers Bay and learn everything you want to know about the beautiful whales.
Discover massive inselberg formations like Pildappa Rock and Mount Wudinna located on the edge of the Gawler Ranges National Park.
Eyre Peninsula Tours Highlights & Inclusions
Pickup from Adelaide City Hotel around 7 am
All Meals from Morning Tea Day 1 until Lunch Day 8
22 Meals – 7 Breakfasts, 8 Lunches, 7 Dinners
Drinking Water, Snacks and Fruit
3x Nights Award-Winning Port Lincoln Hotel Balcony Rooms
3x Nights Foreshore Hotel in Ceduna Executive Ocean View Balcony Rooms
1x Night The Standpipe in Port Augusta
Arno Bay and Tumby Bay Silo Art
Port Lincoln
Whalers Way
Lincoln Marina Cruise
Coffin Bay Oysters Tour and Tasting
Coffin Bay National Park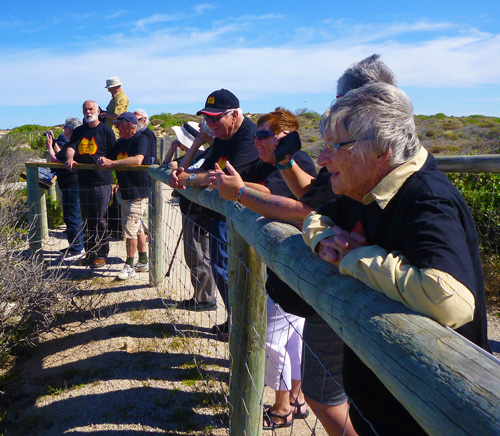 Boston Bay Wine Tasting
Line and Label Restaurant
Fresh Fish Factory Tour
Murphy's Haystacks
Elliston Historic Jetty
Talia Caves
Streaky Bay
Ceduna
Whale Watching Cruise at Fowlers Bay
Head of Bight Whale Watching
Whale Centre at the Head of Bight
Penong Windmills
Axel Stenross Maritime Museum
Pildappa Rock
Mount Wudinna
Kimba Silo Art and Eyre Sculptures
Farmshed Museum in Kadina
Fully Guided Activities
Drop Off Adelaide City Hotel or Adelaide Airport
Adelaide to Whyalla, Arno Bay, Tumby Bay and Port Lincoln Day 1 to 3
Our Eyre Peninsula Explorer begins in Adelaide where you will be picked up from your city centre hotel by 7am. We travel along the Princess Highway to Whyalla, located on the east coast of the Eyre Peninsula. We have lunch here and continue our journey south along the coast to the peaceful fishing village of Arno Bay. Enjoy the estuary boardwalk with numerous observation decks and winding its way through mangroves, samphire and mudflats. Back on the road we travel a short distance to Tumby Bay, home of the newest addition to the Silo Art Trail in South Australia. Created with 430 litres of paint the 2200 square meter mural is quite a masterpiece. Today's final destination Port Lincoln is only a 30-minute drive away and is situated on the shore of Boston Bay, a natural deep-water harbour with a size three times bigger than Sydney Harbour. We stay at the award-winning Port Lincoln Hotel for the next 3 nights of our tour. (Day 1 Overnight Port Lincoln Hotel Balcony Rooms, Lunch, Dinner)
This morning we journey to the foot of the Eyre Peninsula and travel along the Whalers Way, a 14km long series of unsealed tracks which traverse through private property. Take in the spectacular rugged coastline of the area, with many points of interest and stunning views. We then make our way to the Fresh Fish Place, which has become the leading fish processing factory of Port Lincoln. Look behind the scenes during the Seafood Lovers Tour and taste some of their most sought-after catch such as smoked fish, scallops, calamari, pickled mussels and Coffin Bay Octopus. Port Lincoln is the seafood and aqua culture capital of Australia, also called the "Seafood Frontier", boasting the largest fishing fleet off any Australian town or city. After lunch we discover Lincoln Cove Marina on board the electric Tesla and get first-hand information about the importance of Port Lincoln's fishing industry. Hear how the seafood trade has changed and how the Southern Bluefin Tuna has made Port Lincoln one of the richest towns in Australia. From here we take a short drive to Boston Bay Wines to enjoy a structured wine tasting. Finish the day with a leisurely walk along the foreshore or enjoy a drink on your very own balcony. (Day 2 Overnight Port Lincoln Hotel, Breakfast, Lunch, Dinner)
Today we explore Coffin Bay one of the world's best oyster growing regions with stunning white beaches and scenery. Take in magnificent views from well selected lookouts and experience the pristine nature on a beautiful walk in Coffin Bay National Park. Meet the owners of a local oyster farm and embark on a fun and entertaining hands-on shucking lesson. During our tour, we wade out into the water and taste fresh Pacific and native Angasi Oysters straight from the bay. It can not get any fresher than this. We will have lunch at local café in Coffin Bay before stepping back in time at the Axel Stenross Maritime Museum. Located on the waterfront the museum is home to an impressive collection of historic vessels, relics, photographs and celebrates the lives of Axel Stenross and Frank Laakso. Back at the hotel enjoy some free time to explore local galleries and shops. Complete a fabulous day with a delicious dinner at the award-winning Line and Label Restaurant, one of the newest dining destinations on the Eyre Peninsula. (Day 3 Overnight Port Lincoln Hotel, Breakfast, Lunch, Dinner)
Elliston to Murphy's Haystacks, Streaky Bay and Ceduna, Whale Watching Cruise, Head of Bight Lookout Day 4 to 6
It is time to leave the magnificent town of Port Lincoln and we continue our journey north along the west coast of the Eyre Peninsula. We stop at Elliston on the shores of Waterloo Bay, where there are frequent sightings of dolphins and sea lions. Walk along the heritage listed jetty before we make our way to the stunning Talia Caves and the well-known Murphy's Haystacks. After lunch in Streaky Bay we continue our journey and arrive in Ceduna mid-afternoon. Located on the panoramic shores of Murat Bay and rich in indigenous culture, Ceduna's meaning is "Resting Place". Stroll along the waterfront and take in a beautiful sunset before a delicious buffet dinner. The top-quality Foreshore Hotel will be our accommodation for tonight. (Day 4 Overnight Ceduna Foreshore Ocean Front Executive Rooms, Breakfast, Lunch, Dinner)
Today we travel to Fowlers Bay a hidden paradise with kilometres of white sandy beaches and crystal-clear blue water. The bay offers great protection for the Southern Right Whales and their calves. We get up close and personal on a two-hour whale watching cruise. Enjoy a homemade lunch from the owners of Fowlers Bay Eco Cruise before travelling to Penong. Penong is a small wheatbelt town on the Nullarbor Plain and is now known for its array of windmills. We return to Ceduna and there is time to unwind and relax before a group dinner. (Day 5 Overnight Ceduna Foreshore Ocean Front Executive Rooms, Breakfast, Lunch, Dinner)
The beginning of the famed Nullarbor Plains, Nullarbor meaning "no trees", is where we are headed today. But it is not trees we seek, we are looking out for the Southern Right Whales frolicking below the Bunda Cliffs. Each year the whales call this part of the Eyre Peninsula coast their home and you can watch them nursing their calves, leaping out of  the ocean or waving to us. Check out the Head of Bight Interpretive Centre and this day is sure to be one of your lifetime memories. (Day 6 Overnight Ceduna Foreshore Ocean Front Executive Rooms, Breakfast, Lunch, Dinner)
Discover Pildappa Rock and Mount Wudinna, Kimba and Kadina Day 7 and Day 8
This morning we farewell the coast and travel inland, the Central Eyre Peninsula characterised by open farmland, untouched wilderness and unique landscapes. Edward John Eyre first discovered Minnipa in 1839, mapped and recorded the native names of unique granite rocks in the area. Walk to the top or along the base of Pildappa Rock, an inselberg with the highest and longest wave formations on the Eyre Peninsula. We continue our journey to the largest exposed granite monolith in South Australia, Mount Wudinna. Surrounded by mallee bushland the area is a great scenic spot for lunch. Back on the road our next stop takes us to the Whites Knob Lookout in Kimba. Great for excellent views and some photos of the Edward John Eyre Sculptures, an artistic tribute to the early explorers. Kimba is also home to a stunning and very colourful silo art, which can not be missed on our journey. We arrive in Port Augusta late afternoon and finish the day with a delicious restaurant meal. (Day 7 Overnight The Standpipe Port Augusta, Breakfast, Lunch, Dinner)
For our journey home today, we drive to Kadina, a township on the Yorke Peninsula. Visit the Farmshed Museum and you will be amazed by a magnificent collection of vintage tractors, machinery, farming memorabilias and uncountable displays. After lunch we take on the last stretch to Adelaide and it is time to say our goodbyes. Arrive in Adelaide by 4pm. (Day 8 Breakfast, Lunch)
These tours are wonderful. Attention to detail keeps everyone happy and they have many return people. I have done 5 tours. Kangaroo Island wonderful and the Eyre Peninsula. (but the others good too) Value for money is fantastic.
Thank you for a most wonderful tour of the Eyre Peninsula over the past eight days. Your attention to detail is perfect, from the itinerary to the accommodation, to the meals, not to mention the comfort of Thelma. In 2019, we would like to tour again with you to the Murray river and also Lake Eyre! Very best wishes to you both.
What a wonderful trip, thank you so much. Bob and I wanted to visit the Eyre Peninsula and we couldn't have chosen a better tour and company to take us there. Everything was just great.
Just a quick email to let you know how much I enjoyed the tour to Eyre Peninsula. The accommodation was first class. Both Port Lincoln and Ceduna had such  great locations on the Esplanade. The food was amazing and, as a seafood lover, I was in paradise each meal. The itinerary was great and we got to see so much. Rita, as always, was a wonderful guide and driver.
I chose this tour for the advertised itinerary and I was not disappointed. Only SOME of the HIGHLIGHTS – Boston Bay Wines, Whalers Way, Coffin Bay Oyster Farm, the Head of the Bight and the visit to the 'whale nursery' at Fowlers Bay. We saw 47 whales including many calves. Even primarily 'travelling' days were exciting with superb scenery and many stops to view places of interest such as Murphy's Haystack, Pildappa Rock and Mount Wudinna. The tour was also excellent value for money. Thank you
Eyre Peninsula Tour
8 Days $3695 per person
Next Departures
6th July 2023  Fully Booked
20th July 2023  Fully Booked
3rd August 2023  Fully Booked
17th August 2023 Fully Booked
2024 Departures
15th March  Special Iconic Summer Tour – Seats Available
25th July Seats Available
14th August Seats Available
On behalf of us I would like to thank you very much for making our Eyre Peninsula and Flinders Ranges tours such a wonderful trip. Firstly you, Diana, for organising two wonderful itineraries that allowed us to experience the wonders of the two areas, especially in these trying times of COVID. Especially for quickly arranging an itinerary for our visit to the Flinders Ranges on such short notice that allowed us to visit such magnificent places. Now for our two wonderful drivers and guides, Rita and Marian. What a delightful experience it was to travel with you both. Your friendly nature and knowledge of the areas helped to make the tours a wonderful experience. We will also be strongly considering your company for any further tours we have in mind. Cheers Bruce, Merran and Maureen.
AUSTRALIAN ICONIC TOURS
Fully Accredited, Licensed and Insured Tour Company in Australia