The Eyre Peninsula is a great South Australian holiday destination.
Visit the HMAS Whyalla and stroll on it's giant deck before our journey takes us along the peninsula's east coast to Port Lincoln, the seafood and aqua culture capital of Australia.
Take a Harbor Cruise at Boston Bay, taste local wines and walk along the panoramic shores of Ceduna.
Whether it is the Southern Right Whales frolicking in the Great Australian Bight, rugged limestone cliffs, kilometres of unspoilt coast line, fresh seafood, indigenous culture or the giant Pildappa Rock that interest you, our Eyre Peninsula Tours showcase it all.
Taste pure oysters at Coffin Bay and walk among the Murphy Haystacks which are so nicely arranged by mother nature.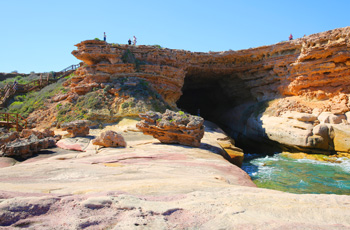 It is whale season at the Head of Bight and you can watch the gentle creatures playing and feeding in the bay. We take an Eco Whale Watching Cruise at Fowlers Bay and learn everything you want to know about the beautiful whales.
Discover massive inselberg formations like Pildappa Rock and Mount Wudinna located on the edge of the Gawler Ranges National Park.
Eyre Peninsula Tours Highlights & Inclusions
Pickup from Adelaide City Hotel around 7 am
All Meals from Morning Tea Day 1 until Lunch Day 8
22 Meals – 7 Breakfasts, 8 Lunches, 7 Dinners
Drinking Water, Snacks and Fruit
3x Nights Award-Winning Port Lincoln Hotel
3x Nights Foreshore Hotel in Ceduna
1x Night Standpipe Motor Inn in Port Augusta
HMAS Whyalla Guided Tour
Port Lincoln
Boston Bay Cruise
Guided Walking Tour of Port Lincoln Harbor
Coffin Bay Oysters Tour and Tasting
Coffin Bay National Park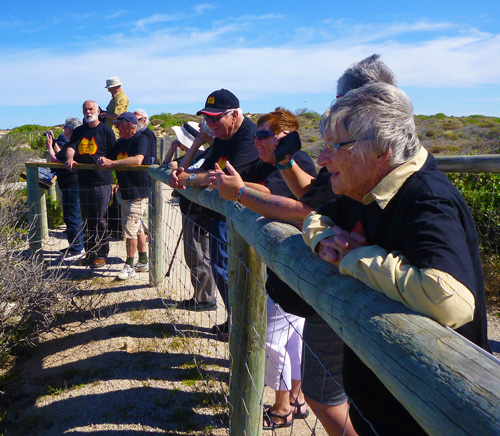 Boston Bay Wines
Murphy's Haystacks
Talia Caves
Streaky Bay
Ceduna
Whale Watching Cruise at Fowlers Bay
Head of Bight Whale Watching
Whale Centre at the Head of Bight
Axel Stenross Maritime Museum
Pildappa Rock
Mount Wudinna
Arid Lands Botanical Gardens Port Augusta
Fully Guided Activities
Drop Off Adelaide City Hotel or Adelaide Airport
Adelaide to Whyalla, Arno Bay and Port Lincoln Day 1 to 3
Our Eyre Peninsula Tour begins in Adelaide where you will be picked up from your city centre hotel by 7 am. We travel along the Princess Highway to Whyalla, located on the east coast of the Eyre Peninsula. Enjoy lunch before we take a guided tour of the HMAS Whyalla. The ship is about 57 m in length and we get to stroll on the deck, check out the cabins and walk under its hull. After this great experience we continue our journey south along the coast to Port Lincoln. We will be staying at the Port Lincoln Hotel for the next 3 nights of our Eyre Peninsula Tour.  
Lunch, Dinner, Port Lincoln Hotel overnight 
Port Lincoln is the seafood and aqua culture capital of Australia, also called the "Seafood Frontier", boasting the largest fishing fleet off any Australian town or city. Enjoy a guided walk with a local along the harbour and get first-hand information about the importance of Port Lincoln's fishing industry. Discover Boston Bay by boat, a cruise that will showcase the dimensions of this area, which is three times bigger than the Sydney Harbor.  Breakfast, Lunch, Dinner, Port Lincoln Hotel overnight  
Take a step back in time and browse through the Axel Stenross Maritime Museum this morning. Meet the wine maker at Boston Bay Wines, enjoy a structured wine tasting and a gourmet lunch at the vineyard. Explore Coffin Bay with its stunning white beaches and taste fresh oysters provided for us by the owners of an oyster farm. Finish the day with a delicious dinner at the Marina Hotel, situated at Port Lincoln's spectacular Lincoln Cove Marina.  Breakfast, Lunch, Dinner, Port Lincoln Hotel overnight
Elliston to Murphy's Haystacks, Streaky Bay and Ceduna, Whale Watching Cruise, Head of Bight Lookout Day 4 to 6
It is time to leave the magnificent town of Port Lincoln and we continue our journey north along the west coast of the Eyre Peninsula. We stop at Elliston on the shores of Waterloo Bay, where there are frequent sightings of dolphins and sea lions. Walk along the heritage listed jetty before we make our way to the stunning Talia Caves and the well-known Murphy's Haystacks. After lunch in Streaky Bay we continue our journey and arrive in Ceduna early afternoon our final destination for today. Situated on the panoramic shores of Murat Bay and rich in indigenous culture, Ceduna's meaning is "Resting Place". The top quality Foreshore Hotel will be our accommodation for the next three nights. 
Breakfast, Lunch, Dinner, Ceduna Foreshore Hotel overnight 
Today we travel to Fowlers Bay a hidden paradise with kilometres of white sandy beaches and crystal clear blue water. The bay offers great protection for the Southern Right Whales and their calves. We get up close and personal on a two hour whale watching cruise. Upon return learn about the area's rich indigenous history with a visit to the Aboriginal Arts and Culture Centre in Ceduna. Breakfast, Lunch, Dinner, Ceduna Foreshore Hotel overnight
The beginning of the famed Nullabor Plains, Nullabor meaning "no trees", is where we are headed. But it is not trees we seek, we are looking out for the Southern Right Whales frolicking below the Bunda Cliffs. Each year the whales call this coast their home and you can watch them nursing their calves, looping out the ocean or waving to us. Check out the Head of Bight Interpretive Centre and this day is sure to be one of your lifetime memories.  Breakfast, Lunch, Dinner, Ceduna Foreshore Hotel overnight
Discover Pildappa Rock and Mount Wudinna, Port Augusta Arid Lands Botanical Garden Day 7 and Day 8
Edward John Eyre first discovered Minnipa in 1839, mapped and recorded the native names of unique granite rocks in the area. Walk to the top or along the base of Pildappa Rock, an inselberg with the highest and longest wave formations on the Eyre Peninsula. We continue our journey to the largest exposed granite monolith in South Australia, Mount Wudinna. Surrounded by mallee bushland the area is a great scenic spot for lunch. We arrive in Port Augusta late afternoon and finish the day with a delicious restaurant meal.  
Breakfast, Lunch, Dinner, Port Augusta overnight 
Port Augusta, once a major port of wool, minerals and wheat is now a tourist centre, the entrance to the Flinders Ranges, the Northern Territory, Eyre Peninsula and the Nullabor Plains. Stroll among some of the 200 acres of the Arid Lands Botanical Gardens before heading south along the highway back to Adelaide. Arrive in Adelaide by 4 pm. Breakfast, Lunch 
These tours are wonderful. Attention to detail keeps everyone happy and they have many return people. I have done 5 tours. Kangaroo Island wonderful and the Eyre Peninsula. (but the others good too) Value for money is fantastic.
HolidayOften, Tripadvisor
What a wonderful trip, thank you so much. Bob and I wanted to visit the Eyre Peninsula and we couldn't have chosen a better tour and company to take us there. Everything was just great.
Barbara, Facebook
Eyre Peninsula Tour
8 Days $2495 per person
Next Departure
23rd August  Seats Available
We have 1x single female traveller looking to Twin Share on this tour – Get in touch
Fully Accredited, Licensed and Insured Tour Company in Australia