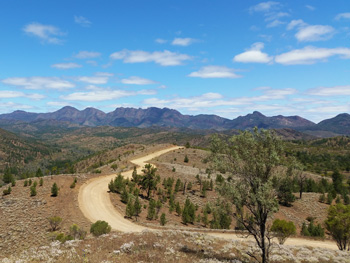 The Flinders Ranges are the most spectacular sights in South Australia. Running 400 km from the northern end of the Spencer Gulf into the arid outback of Australia. Explore Wilpena Pound and Arkaroola Sanctuary, two spectacular attractions on this fully guided Flinders Ranges Tour from Adelaide.
Whether you are a keen bush walker, bird watcher or you are coming to paint, photograph or relax, we offer you a great mixture of activities. See Fossils at Nilpena, experience Arkaroola on the famous Ridgetop Tour, watch the outback stars at the Observatory and discover the many layers of the ochre wall nearby.
Hop on the Pich Richi Railway Train in Quorn and you can really get a feel for the timeless Flinders Ranges. Peterborough Steamtown is home to railway gauges and historic trains and a guided tour is not to be missed. Burra is another very interesting country town along with Clare Valley, a premium SA wine region.
Flinders Ranges Tours Highlights & Inclusions
Pickup from Adelaide City Hotel
All Meals from Morning Tea Day 1 until Lunch Day 7
Drinking Water, Snacks and Fruit
1x Night Peterborough Motel
2x Nights Arkaroola Wilderness Sanctuary
1x Night Blinman Hotel
1x Night Prairie Hotel
1x Night The Standpipe in Port Augusta
Pichi Richi Railway Train Experience
Historic Township of Quorn
Hawker
Panorama Gallery Hawker
Nilpena Station Fossil Tour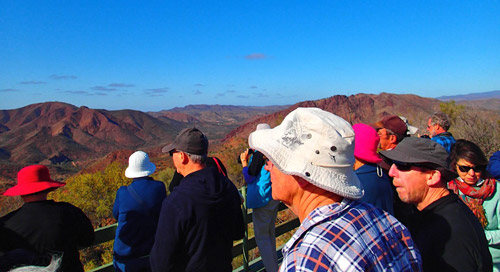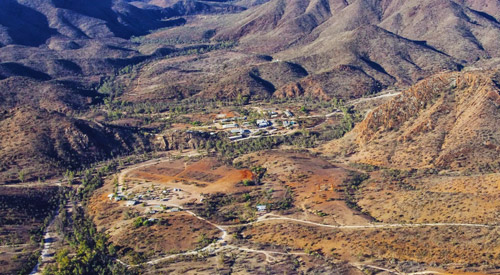 Observatory Tour at Arkaroola
Arkaroola Ridgetop Tour
Arkaroola Ochre Wall
Wilpena Pound
Brachina Gorge and Bunyeroo Valley
Flinders Ranges Homestead Walk
Blinman
Kanyaka Ruins
Peterborough
Steamtown Railway Centre
Burra Town Tour
Paulette's Wine Tasting and Lunch
Fully Guided Activities
Drop Off Adelaide City Hotel or Adelaide Airport
Flinders Ranges Tours depart Adelaide from any city centre hotel
Depart Adelaide accommodation by 7.30 am and let us take you on a tour filled with wonder and delights of South Australia. We start with a tour of the historic town of Burra. Hear all the great copper mining history and tales of locals long ago departed. A visit to the local gaol, pump house and mine site give you a fantastic insight of Burra town. Then it is onto Peterborough, one of only two places in the Southern Hemisphere where you can still see three railway gauges and where Australia's great steam era has been preserved. See the trains up close on a guided tour of Steamtown before our delightful 2-course dinner. After dark the Steamtown displays come to life and you may like to join the optional Light and Sound Show. Day 1 Lunch, Dinner, Peterborough Motel overnight
Travel from Peterborough to Arkaroola Village and Join an Observatory Tour at night
After breakfast we take on the journey to the most ancient of lands – Arkaroola Wilderness Sanctuary. Arkaroola features rugged mountains, towering granite peaks, magnificent gorges take and mysterious waterholes. We drive past the western wall of the Flinders Ranges and stop in the old town of Copley. After a lunch break we turn off the Outback Highway and follow the Vulkathunha Gammon Ranges Road deep into the Northern Flinders Ranges. Upon our arrival at Arkaroola Resort we settle into our rooms and join back for dinner and an Observatory Tour of the Southern Hemisphere night skies. Day 2 Buffet Breakfast, Lunch and Dinner, Arkaroola Sanctuary overnight
Arkaroola Ridgetop Tour as an inclusion on all Flinders Ranges Tours
Today we experience Arkaroola's world famous signature tour – the Ridgetop Tour. We travel in specially designed vehicles for an unforgettable encounter with the timeless terrain and unique natural beauty of the area with a 360 degree view at the top of the Ridgetop track. The Half-Day Tour is a 'must do' experience at Arkaroola and is a huge highlight on our Flinders Ranges Tours.
After lunch we head out to the impressive Ochre Wall and explore Arkaroola by foot. Look out for some of the 160 recorded bird species to the area or the various flora and fauna abundant at this time of the year. There is time for an optional scenic flight over Arkaroola Sanctuary or an additional walk this afternoon. Day 3 Buffet Breakfast, Lunch and Dinner, Arkaroola Sanctuary overnight
Tour to Nilpena Station and the Ediacaran Fossil Site 
The iconic Prairie Hotel at Parachilna is our destination today and we arrive around noon. After lunch we have organised a visit out to Nilpena Station. This fascinating tour includes seeing the working Cattle Station and the Ediacaran Fossil Site, featuring fossils that are over 555 million years old and represent the earliest evidence of complex life on earth. This site is regarded as one of the most important of its type and offers a fascinating look into the past.
Back at the Prairie relax and unwind or sit around the wine barrels set out the front of the charming sandstone building and enjoy one of the Prairie's home-brew, the Fargher Lager beer. We will indulge in the Prairie's famous "feral food" menu tonight; trying emu, kangaroo, camel, quandong and more. Their menu has been recognised as one of twenty "unmissable outback experiences". Day 4 Buffet Breakfast, Lunch and Dinner, Prairie Hotel overnight
Tour to Wilpena Pound, Blinman and other highlights in the Flinders Ranges National Park
The Flinders Ranges are home to some of the state's most fascinating natural attractions with Wilpena Pound being one of them. Today we spend the full day discovering the rugged ranges and taking in the living culture of this region. Travel back in time on the Brachina Gorge Geological Drive passing through millions of years of earth and history. We continue our scenic drive through Bunyeroo Valley with its impressive views to Wilpena Pound's Razorback Ridge from the lookout stops. The colours, rock shapes and stunning views are spectacular. Enjoy more photo opportunities at the Old Wilpena Ranger Station before our picnic lunch.
After lunch we take the shuttle bus to the entrance of Wilpena Pound. Join your guide on a walk into Wilpena Pound to Wangara Lookout and learn about the Hills family history. Back at Wilpena Pound Resort we are now on our journey to Blinman. Stop at the well-known Cazneaux Tree, Stokes Hill Lookout, and the Great Wall of China before arriving at the old copper mining town late afternoon. Explore Blinman at your own leisure before a delicious 2-course dinner at the Blinman Hotel. Day 5 Cooked Breakfast, Lunch and Dinner, Blinman Hotel overnight 
Morning Wilpena Pound Flight option, Travel to the Flinders Ranges Outback township of Quorn, Depart on the Pichi Richi Train
Get up early and take an optional scenic flight over Wilpena Pound, Brachina Gorge and Blinman or enjoy a little sleep in. We depart Blinman by 9am today and traverse the Southern Flinders Ranges townships. Stop at Elder Range Lookout and visit Kanyaka, the old cattle and sheep station established prior to the construction of the transcontinental railway line.
Our next stop takes us to Quorn with time for a discovery walk around the historic railway town. In the afternoon step back in time with a train ride on the Afghan Express from Quorn to Port Augusta. Take a seat in the timber bodied carriages and enjoy the stunning views as we travel through the Pichi Richi Pass. Check into your room upon arrival in Port Augusta. We all join back for a final group dinner. Day 6 Cooked Breakfast, Lunch, Dinner, Port Augusta overnight
Wilmington, Melrose and Clare Valley – final day on our Flinders Ranges Tours
Our last day has arrived and we take the scenic route back to Adelaide. We drive south through the country towns of Wilmington, Melrose and Laura. Look at the fantastic Wirrabara Silo Art and have a walk around Laura, the home of Golden North ice cream. For lunch we take you to the beautiful wine region of Clare Valley. Indulge in the delicious wines and lunch provided for us at a local cellar door. We are now on the home stretch to Adelaide and our magnificent Flinders Ranges Tour is coming to an end. Arrive back in Adelaide by 3.30 pm. Day 7 Continental Breakfast, Cellar Door Lunch
I have travelled with this company FIVE times , and each trip has been a fabulous experience. Mostly I travelled with my sister, once with my daughter and once with a young friend. Each time my companions also greatly enjoyed the trips and thanked me for their great holiday. Who would travel 5x, if they did not have a wonderful time and delicious fresh food ? and very good value for their money ? Ursula
A tour that provides the best of the Flinders Ranges, Arkaroola, Wilpena Pound, Peterborough, Clare Valley. Food and accommodation superb, knowledge of the area and it's history are provided by an organised and personable tour guide who looks after her passengers thoughtfully. A tour not to be missed by those who love the wilderness of our ancient land.
Flinders Ranges Tours
7 Days $2595 per person
Next Departures in 2021
19th April Departed

 9th August Not Available

10th September 4x Seats Left
20th September 4x Seats Left
27th September 6x Seats Left
4th October 8x Seats Left
18th October 6x Seats Left
Register for 2022
Not a lot of time? Join our 3 Day Flinders Ranges Getaway.
Australian Iconic Tours cancelled all tours from mid- March through to the end of August in 2020 due to Covid19 restrictions. Every Single Traveller has received a Full Refund of all payments made. We, Australian Iconic Tours, are not handling the situation any different in 2021.
If borders are closed / closed again or government / health authorities are preventing us from travelling, all our travellers receive a full refund.
If by law you are required to quarantine for 14 days before joining our tour in a particular state or you are required to quarantine when returning home, Australian Iconic Tours is accepting your cancellation as a covid-related cancellation and you are receiving a full refund.
Please note: If you have made a payment by credit card, we cannot refund credit card fees. These are bank related charges which cannot be recovered. 
AUSTRALIAN ICONIC TOURS
Fully Accredited, Licensed and Insured Tour Company in Australia